Making logistics that matter
This development of small-scale logistics units comprises a total floor area of 17,456 sq m l.f.a., devided in 13,289 sq m l.f.a. warehouse. Space, 1,821 sq m l.f.a. mezzanine, 2,346 sq m l.f.a. office space and 105 on site parking spaces. The premises can be divided into a maximum of nine independent units.
Some units can be combined in order to create larger units. Each unit has at least two loading docks and one overhead door. Due to its location and the unit sizes, this project is one of a kind!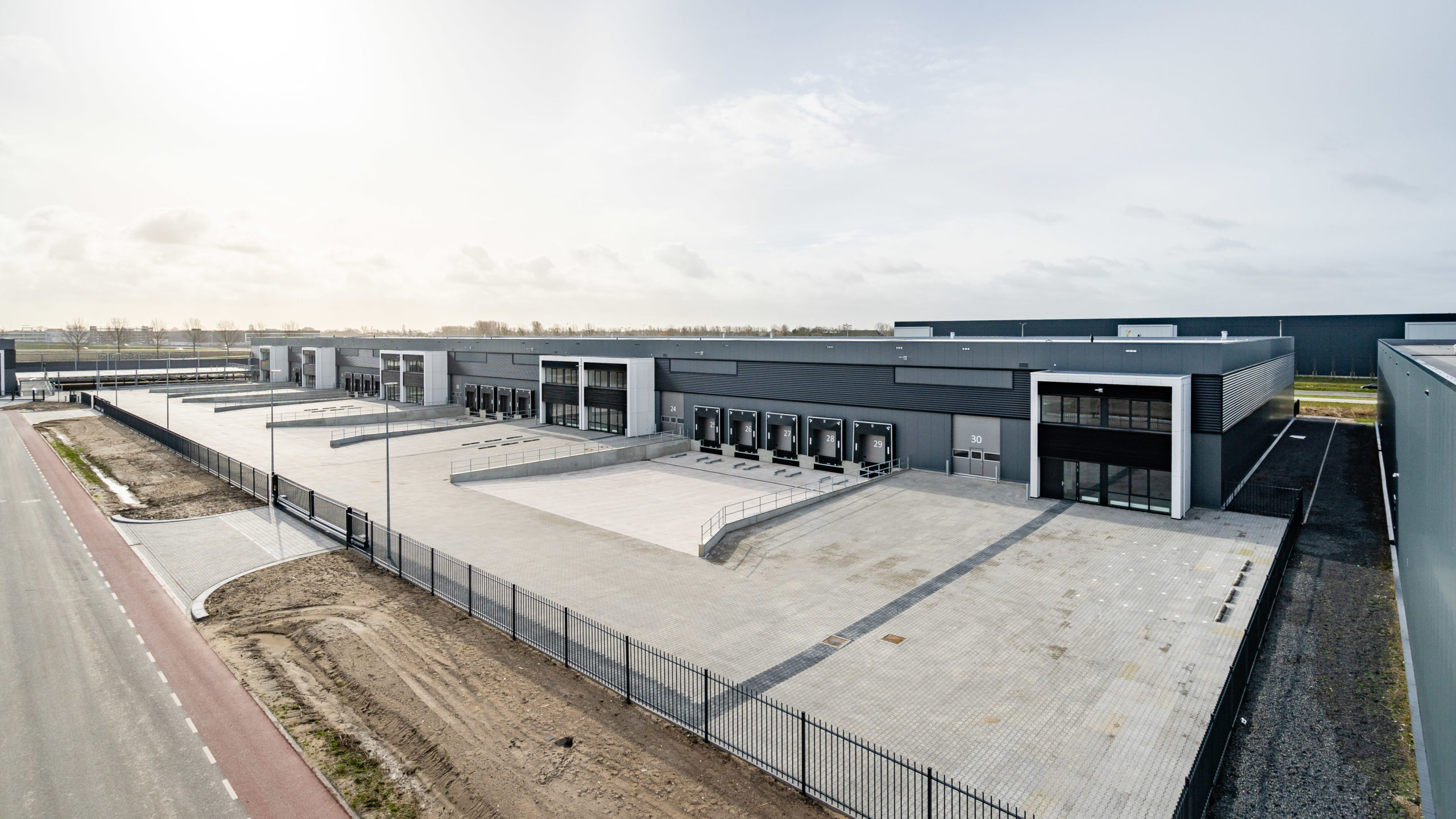 The total lettable floor area of the building is
17,456 sq m
The park management ensures sustainable maintenance of the site.
All these factors mean that airport-oriented service providers, freight forwarders and transporters regard this high-quality park as a triple A location.
warehouse floor load
approx. 3,500 kg / sq m
1 overhead door
per unit 3.6 x 4.5 m
clear height
approx. 8.7 meters
heating by means of gas heaters
105 on site parking spaces.
Location
Logistics Court Schiphol is located at Schiphol Logistics Park, on the south side of Schiphol Airport. The park is part of the DGVS zone (Document-Free Goods Tracking System), it is located near the cargo area of Schiphol and the Port of Amsterdam can be reached within 20 minutes by car.
By car
Logistics Court Schiphol is very easily accessible. It is located immediately east of the motorway A4, close to the A5 and A9 and at the Hoofddorp exit. The park also has its own driveways to the N201, which connect the park directly with the A4 and the flower auction in Aalsmeer.
By public transport
Logistics Court Schiphol is near the Hoofddorp and Schiphol train stations. Train connections from Amsterdam Central to various destinations in the Netherlands and Europe (including Brussels, Paris, Frankfurt) are excellent. Bus options are: line 340: bus stop SLP / Naritaweg, Rozenburg and line 181/191, bus stop Kruisweg 365, Rozenburg.
All units are ready
for all your logistic challenges
Press your finger on the units to check the availability.
Contact.
Do you have any questions?
Feel free to contact us for more information or a viewing. We are happy to inform you about the possibilities for your organization at.